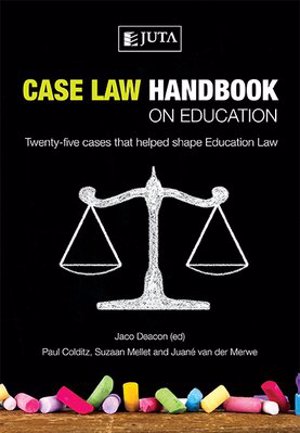 New book by FEDSAS experts contributes to research on education law
A thorough understanding of the development and application of legislation that has an impact on education in South Africa is essential for any role-player in the country's education sector. The Federation of Governing Bodies of South African Schools (FEDSAS) is not only an internationally recognised expert in the field of school governance, but also one of the foremost experts on South African education law. FEDSAS' latest contribution to research on education law, Case Law Handbook on Education, was published by Juta recently.

"The book analyses 25 cases that contributed to South Africa education legislation as we know it today," says Dr Jaco Deacon, Deputy CEO of FEDSAS and also editor of the publication. The other authors are Mr Paul Colditz, FEDSAS CEO, Mrs Suzaan Mellet, Manager: Support Services at FEDSAS, and Ms Juané van der Merwe, FEDSAS' legal officer. All four authors are legal experts with proven knowledge of education law.

"The book is an authoritative academic publication, but was written to be accessible to members of governing bodies that work with these issues on a daily basis. The publication also analyses cases that were not reported on but in which grounding principles were determined. Each case is discussed clearly and the practical implications are highlighted," explains Deacon.

FEDSAS aims to improve quality education in public schools. This can only happen when school governing bodies are knowledgeable. This publication is invaluable for anyone confronted with the complicated legal concepts and principles that influence education in South Africa.

Case Law Handbook on Education is currently only available in English at most leading book stores. More information is also available on the FEDSAS website at www.fedsas.org.za

(FEDSAS is a voluntary association of school governing bodies of public schools and supports quality education in these schools. More than 1900 public schools are already members of FEDSAS).