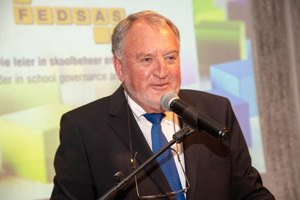 FEDSAS' Paul Colditz to retire. The South African education sector is much richer because of the enormous contribution from a renowned role-player such as Mr. Paul Colditz, CEO of the Federation of Governing Bodies of South African Schools (FEDSAS). Colditz is set to retire at the end of October this year.
"Paul's influence and contribution will continue to be felt in education circles for some time to come. The way in which FEDSAS functions today as a credible and respected education partner can largely be attributed to Paul's vision, insight and ability," says Dr Shaun Mellors, Chairperson of FEDSAS' National Council. Colditz retires at the end of October 2021 after 14 years as CEO of FEDSAS. From 1 June 2021 he will be involved in a different capacity to enable a smooth transition of leadership within FEDSAS. The current Deputy CEO, Dr Jaco Deacon will take over as acting CEO on 1 June 2021 for a period of five months. He is to be appointed in the position of CEO on 1 November 2021.
"With Jaco as acting CEO it will provide the National Council with enough time to manage the period of transition so that FEDSAS' activities and services will continue without interruption," says Mellors.
With Colditz at the helm, FEDSAS has developed into an organisation with more than 2000 school governing bodies in all nine provinces as members. "We are also proud of our relationship with other education role-players, including the National Department of Basic Education. Under Paul's leadership FEDSAS is established as the leader in school governance with not only local but also international recognition for the organisation's work," says Mellors.
Mellors says Colditz's exemplary succession planning has laid the foundation for a smooth transition. "All FEDSAS' staff share the same vision, namely the promotion of quality and value-driven education, and each staff member understands their role in realising this vision. In Jaco FEDSAS has a leader with the same dynamic vision, which means FEDSAS members and the education sector as a whole can continue to expect the same excellence from the organisation."
"Paul's retirement will leave a large void but the fact that FEDSAS' activities will continue without interruption is probably the best testimony of his extraordinary leadership," says Mellors.
FEDSAS will say farewell to Colditz at the organisation's Annual General Meeting at the end of this year.