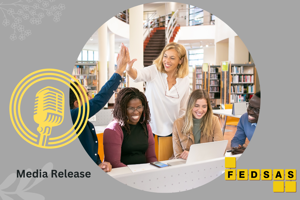 The worldwide shortage of educators is especially acute in sub-Saharan Africa, where millions of children do not have access to education due to a shortage of qualified teachers. The focus of this year's World Teachers' Day is on this shortage and the challenges facing educators. World Teachers' Day is celebrated annually on 5 October.

"School governing bodies are closely involved in appointing teachers. Appointing the best possible educators and keeping good educators should be very high on a governing body's agenda. Quality education is directly related to good educators," says Dr Jaco Deacon, CEO of FEDSAS (the Federation of Governing Bodies of South African Schools). In South Africa, World Teachers' Day falls in the school holiday, so FEDSAS is encouraging members to celebrate teachers on the first Friday of the fourth term, on 13 October.

The United Nations' theme this year is "The teachers we need for the education we want". The focus is on the importance of stopping the decline in the number of teachers and then starting to increase that number. The best advertisement for the profession is of course educators themselves as they are best positioned to make young people excited to become teachers.

"The school environment also plays an important role in teachers' work environment. Overcrowded classrooms, a lack of resources and problems with basic services like water and electricity demand a lot from teachers. SGBs should ensure that teachers work in a safe environment, that they enjoy professional freedom in the classroom and that they are acknowledged in the community for the difference they make in the life of every child," says Deacon.

The potential impact of the Basic Education Laws Amendment Bill, or BELAB, on the education environment in South Africa is a concern. "If SGB functions such as determining language and admission policy are moved to provincial heads of education, it means that good schools will be forced to accommodate more and more learners. Good schools' capacity is already under threat and overcrowded classrooms and the pressure on teachers' workload when they must accommodate additional languages are only some of the crises looming on the horizon."

Deacon says one way to help teachers is for school communities to become involved in the election of competent SGBs. "Next year it is time for SGB elections again. Knowledgeable people with strong leadership abilities should avail themselves and parents and guardians must vote in these elections."

Support for possible legal action by several organisations to test the constitutionality of BELAB is also crucial. "FEDSAS has already appointed an expert legal team, but we need the support of schools and school communities to see through the case until the end."
FEDSAS is grateful for each educator who makes a difference in a child's life, inside and outside the classroom. "The organisation's focus is on quality education, which is only possible if teachers have all the support they need. FEDSAS's job is to make sure that SGBs are equipped to provide that support."